Course details
Popular No. 1 (Season's course) Cheese hill, meat pudding, dessert serving 2 h drinking and attaching 4000 yen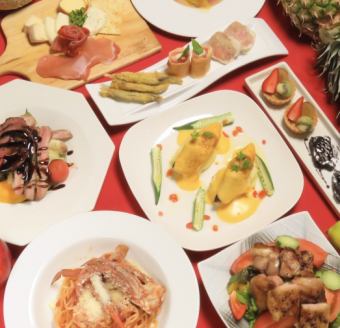 By using a coupon4000 yen
Consumption Price including tax.
All-you-can-drink available

There are plans of 60 kinds + 300 yen for all.120 minutes All you can drink (LO 90 minutes)
Reservation deadline

Until 14 o'clock on the day of visit to the store
Available days for reservation

Monday - Sunday - Public holidays - Holidays
It is the course content which used a lot of seasonal ingredients.
Course menu
Season's course 2h Drinking and drinking 5000 yen ⇒ 4000 yen
◆ Assorted appetizer of the day
◆ Nagahama Market Direct Carpaccio Capsezeka
◆ Chicken Grill's Chopper Salad
Assorted Cheese and Charcuteley
◆ Me Cute Salmon Sabayone
◆ grilled sagari and iberian pigs
◆ Pasta of crayfish
◆ Assortment of two desserts
* Please leave a surprise of your birthday and anniversary ☆ Please contact me by message, etc. before 1st.
All-you-can-drink menu
·beer
· Tempo Supreme <Raw>
· Beer (+ 300 yen plan)
·Heartland
·Fruit wine
· Clear plum wine
· Fruit wine (+ 300 yen plan)
· Shochu
· Black Kirishima · Hakata no Hana · Shiratake
· Shochu (+ 300 yen plan)
· Shochu cocktail
·whisky
· White hose
· Whiskey (+ 300 yen plan)
· Jinhai, lemon high
·wine
·Red and white
· Wine (+ 300 yen plan)
· Sangria Red · Sangria White · Sparkling Wine · Sparkling Sangria Red · Sparkling Sangria White
· Wine cocktail
· Wine cocktail (+ 300 yen plan)
· Mimosa · Kiel Royale · Titiano operator, Kitty
·Cocktail
· [Cassis] cassis orange · cassis soda · cassis oolong · cassis grapefruit 【peach】 fuzzy · peach pine · reggae punch
·Cocktail
· Cocktails (+300 yen plan)
· [Tequila] Tequila tonic · Tequila Sunrise · Mexicoque 【Gin】 Gin tonic · Gimbak · Jin Ricky 【Vodka】 Vodka tonic · Moscow · bulldog · screwdriver
·Non-alcoholic cocktails
· Non alcoholic cocktail (+ 300 yen plan)
· Pink Noise · Shirley Temple · Cinderella · Lemon Squash
·Soft drink
· Orange · Oolong tea · Coke · Ginger ale
· Soft drink (+ 300 yen plan)
· Coffee · Pine · Grapefruit
2019/01/11 update